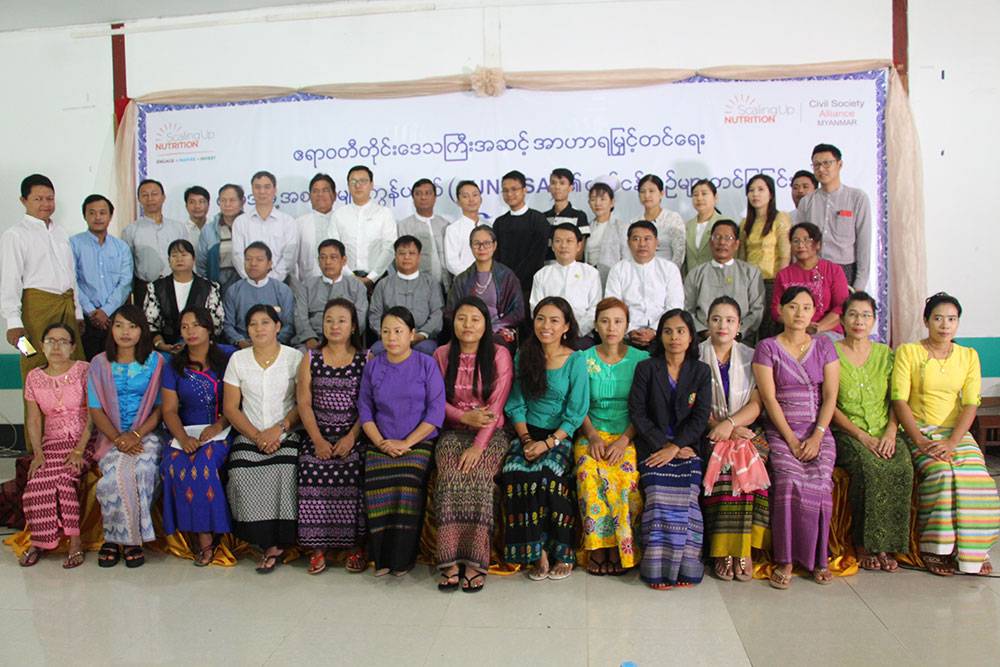 Background
SUN CSA Myanmar was formalized in 2015 after the country signed up as a SUN Country in 2013. In 2016, World Vision, with the support from the Steering Committee, initiated the sub-nationalization for the SUN CSA Ayeyarwaddy Delta Region. The main objective for decentralization was to more effectively represent and coordinate inputs from local and community-based CSOs at the sub-national level.
Why Ayeyarwaddy Delta Region was selected?
According to 2015 MDHS, Ayeyarwaddy Delta is a region with fourth highest stunting prevalence and second highest in terms of cases of stunted children. There was strong commitment from World Vision at the time of initiating decentralization together with support from the donor which is Livelihood and Food Security Trust Fund (LIFT) managed by UNOPS in Myanmar as well as from the SUN CSA's Steering Committee at the national level. In addition, there was a diverse member of the SUN CSA based or implementing nutrition-specific and nutrition-sensitive projects in the region.
How we proceeded?
It started with a consultation workshop convened by World Vision's project team based in Delta Region inviting stakeholders, existing SUN CSA members and other civil society organizations in the region. Majority of the stakeholder representatives were from Regional Public Health Department. Steering Committee from the sub-national CSA was also selected in the first consultation workshop. World Vision served as the chair for the sub-national CSA for 2016-17. Representatives from the Regional Public Health Department were heavily involved in the initial three steering committee meetings. After clarification of the multi-stakeholder collaboration in the SUN Movement and the status of the civil society's independence representation in the platform, sub-national CSA organized steering committee meetings and gatherings more independent multi-stakeholder meetings.
After election of the new Steering Committee for 2017-2018, Sympathy Hands, a national organization, became the chair and Welt Hunger Hilfe, an international organization, became co-chair. World Vision served as the host of the secretariat in the new steering committee. Election of the new steering committee could also ensure that the sub-national CSA's leadership to balance and diversify with in terms both thematic area and type of organization. A local organization took the leadership role as the chair staring from 2017-18. Steering Committee representation and membership is also diversified with both nutrition-specific and nutrition-sensitive organizations.
The sub-national CSA also strengthened by collaborating with existing coordination mechanisms such as Delta Livelihoods Network (DLN). Key achievement of the sub-national CSA was being acknowledged by the Regional Government as an independent and reliable civil society network to collaborate in addressing malnutrition in the region. The Multi-stakeholder Meeting hosted by the sub-national CSA was attended by the Social Minister of the Ayeyarwady Region. High-level from officials from different government departments also attended. The meeting served as the ground to start the discussion about multi-sectoral, multi-stakeholder collaboration for nutrition in Region and CSA members to raise issues and concerns to decision makers.
What was challenging?
Major setback over the course of two years of SUN CSA decentralization in Ayeyarwaddy Delta Region that SUN CSA needed to overcome was limited understanding about SUN Movement's nature and approach both internally within SUN CSA and externally, especially, with government departments.
Despite rapidly growing coverage of mobile communication and internet, use of information technology such as emails and computer still remain as a challenge among local organizations. Basic ICT training from CBOs along with one of the regular meeting might be a good option to overcome this challenge.
Another barrier in SUN CSA is frequent turnover of focal person from member organizations. Proper handover of the information about SUN CSA did not happen as expected. Moreover, communication about SUN CSA in member organizations was also an area the secretariat team needed to request to improve.
 What we have learned?
Existence of a decentralized SUN CSA at the state/regional level has advantages in bringing civil society organizations, especially Community-based Organizations, closer to engagement in multi-stakeholder discussions on nutrition. It is more feasible and comfortable for CBOs to engage in such forum at the sub-national level rather than at the national level. However, engagement at the sub-national level is an essential stepping-stone to build and amplify CBO's voice in the national agenda.
Strong leadership in the SUN CSA was important for establishing a coordination mechanism internally and externally. Clear communication about SUN CSA was vital in promoting SUN CSA's visibility among other stakeholders.
Capacity building for the SUN CSA members has changed their views on nutritional issues in the community and their role in bringing those issues to decision makers. However, the understanding on concept about advocacy across the whole SUN CSA remains an area of improvement and strengthening.
Our way forward
Sustain the existing sub-national SUN CSA in Ayeyarwaddy Delta Region by facilitating CBO engagement and internal capacity strengthening
Decentralization of the SUN CSA at other states and region as per prioritization for Multi-sectoral National Plan of Action on Nutrition by applying the learnings from Ayeyarwaddy Delta Region
Facilitate in bringing civil society's voice on nutritional issues to high-level decision makers and policy forum